Premier Equine Products

Miracle Groom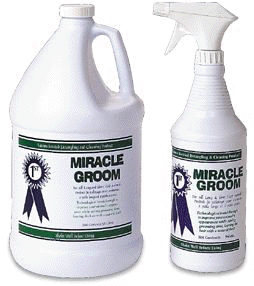 The "20 Minute Miracle"
From Turned-Out Mess To Show-Ring Ready In Less Than 20 Minutes.
Cleans, grooms, and conditions without soap or water. And, when used regularly Miracle Groom cuts grooming time down to minutes.
.

Miraculous Results
Miracle Groom does so many things so well, it's like having 5 products in a bottle!
.
Removes stains:
easily removes manure, latigo and tough grass stains on any color horse, even greys!
Leaves Natural Feel:
no slick or greasy residue buildup...saddles will not slip.
Therapeutic Conditioning:
enriched with Vitamin E and Aloe Vera for a soft, radiant coat right down to the skin!
Detangles:
easily combs out ropes, tangles and mats from mane and tail!
Shines:
maintains bright shine during endless days of showing, even back to back classes!
.
| | |
| --- | --- |
| Four Season Grooming: | |
| No need to bathe your horse: | Miracle Groom is made for use on a dry horse; makes cold weather grooming a snap. |
| Perfect for most animals: | dogs and cats, llamas, sheep and cattle, etc. |
| Gentle, non-irritating: | water-based with natural ingredients. |

.

Benefits of Using Miracle Groom
Water-based, enriched with Vitamin E
Static-free
Brightens colors
Cleans down to the skin without using soap and water
Conditions coat
Repels dust and dirt
Leaves lasting shine
Detangles matted hair
Reduces grooming time
Eliminates offensive odors
No saddle or harness slippage
No greasy residue buildup
No oily, greasy sweat marks
Removes stains
Eliminates bathing
GREAT to use spring, summer, fall, and winter
.
Back to Shampoos and conditioners
What People Are Saying About Miracle Groom!!
"We wanted to thank your associate for the "courtesy grooming" of our AQHA Black Stallion, "Impress My Sender" at the World Horse Expo in Timonium, MD. Miracle Groom did amazing things for his coat. This product really helped bring attention to his muscle definition and his beautiful features and head. We have been using the Miracle Groom for all our horses since we purchased it at the Expo and are so pleased with the results. We have used other products but they left a slippery residue and, in some instances, were not recommended for the saddle area. Miracle Groom can be used with no area restrictions and the hair coat is soft and shining, NOT SLIPPERY. We have been recommending this product to everyone. - Dolores A."
...
---