The number one source for miniature horse tack and equipment. We specialize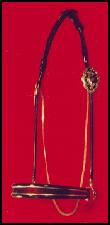 in everything for the miniature horse from: nylon halters and leads, blankets, harnesses, carts, bits, books and videos, saddles, and stable supplies. While we cater to the show world, we are just as happy to assist you with your first purchase for your treasured pet! Service and customer satisfaction is our number one goal. We stock the largest selection of miniature horse tack in the industry, and are proud to offer it to you at competitive pricing. More choice, more value! If you have any questions or can't find what you are looking for just call or e-mail and ask us. Ordering is easy either on-line, phone 724-255-8583. You may order a catalog by phoning or e-mailing.
Your one-stop shop for miniature horse tack. The largest selection of miniature horse tack at the best prices. We use what we sell. Complete customer satisfaction and service. We look forward to hearing from you.

Star Lakes Mobile Tack Trailer

---
Winter Sale
Prices Available thru February 28th
---
Not sure what to buy your horse loving friends?

How about a Star Lake Tack gift certificate? Good for 18 Months. Available from $5.00 to $1,000.00
---
Polar Fleece Driving Cooler

Made of polar fleece. The polar fleece cooler is great when you are warming up a horse for a driving class or are waiting to go into a class. Especially made to fit the horse while harnessed to the cart. Colors available: red, black, navy, burgundy, purple, teal, royal, and hunter. Sizes: medium or large.

| | | |
| --- | --- | --- |
| SLT 512, $48.99 Special $35.00 | | |
---
Winter hood

Made to match the deluxe winter blankets. Since the hood straps behind the front legs there is no need for extra hardware. This hood will work with any blanket. Great for keeping your horse warm. Machine washable. Colors available: red, black, hunter green, royal, navy, burgundy and purple. Sizes small, medium, and large.

| | |
| --- | --- |
| SLT 526H $49.99 Special $35.00 | |
---
Rhinestone Hunter Bridle


This fancy bridle will make everyone stop and look at you in the hunter class. Gives you the look of a traditional bridle with a little added bling. Comes in 1 size and is very adjustable. You have your choice of nose bands and plain conchos or the rhinestone conchos

| | |
| --- | --- |
| SLT 2561, $89.99 Plain Conchos Special $75.00 | |
| SLT 2561F, $109.99 Fancy Conchos Special $95.00 | |
---
Rhinestone Harness Concho
Conchos will fit on any bridle. They can make a plain bridle look like a million bucks. Use them with our other rhinestone products caveson, brow band, or hunter bridle and you have a classy, glitzy look.

| | |
| --- | --- |
| SLT 2560 $29.99 Special $24.00 | |
---
Rhinestone Rolled Show Harness

This harness is similar to the SLT 319, except it has rhinestones on the browband, caveson, breastcollar, and backsaddle. There is also a rhinestone cluster on the blinker. This is our fanciest harness!! It comes complete with a rolled bridle that converts easily from overcheck to sidecheck. The reins are two tone (rolled black with flat brown ends.) The traces are rolled and buckle into the breastcollar. No breeching. Choice of chrome or brass hardware. Rhinestones are clear, clear/black, red/clear, or blue/clear.


| | |
| --- | --- |
| SLT 321, $895.00 (A or B size) Special $775.00 | |



---
NEW ITEM

Check Out our new line of Rose Oil and Premier Shampoo on our
What is Quiessence?

Quiessence has also helped horses with thick, cresty necks that were prone to founder, making them easier to manage, ride and handle. Quiessence is a Magnesium and Chromium feed supplement that may help nervous, high-strung, irritable or sore horses. Because Magnesium is important to nerve and muscle function, it may help horses that are tense, spooky and inattentive to attain a more balanced mental state. Feed 1 oz per 250 lbs. body weight daily until improvement is evident. Feed 1/2 oz per 250 lbs.daily for maintenance. Pellets.







| | |
| --- | --- |
| SLT Q14 14 lb Pail $84.00 | |
| SLT Q3.5 3.5 lb tub $22.00 | |

More Fox Den Products

---
Star Lake Farm & Tack
Cathy Waxler
Route 18, PO Box 276
Atlasburg, PA 15004-0276
(724) 255-8583

---